News
President Ollanta Humala meets with Ontario's Lieutenant Governor
On his last day in Canada, Peruvian President Ollanta Humala met with David C. Onley, Lieutenant Governor of Ontario and representative of Her Majesty Queen Elizabeth II, with whom he discussed the high-level of Peru-Canada relations.
They reviewed the achievements reached during President Humala's state visit to Canada, especially those related to education, the strengthening of government capacities, the environment and social responsibility.
They also exchanged views on cooperation in new areas such as defense and science and technology.
Finally, Humala and Onley agreed that Peru and Canada should promote closer ties in order to broaden the agenda to give it a more social content. The objective is to make the new generations of our countries increasingly competitive and provide the excluded sectors with opportunities for decent development.
Toronto, April 11, 2014.
Social Security Convention enables Peru and Canada to coordinate pension benefits for people who have lived in both countries
Peruvian President O
llanta Humala and Canadian Prime Minister Stephen Harper on Thursday witnessed the signing of the Canada-Peru Social Security Convention in Ottawa.
This Convention will enable Canada and Peru to coordinate the pension benefits and contributions for people who have lived and worked in both countries.
With this Convention, Canada and Peru are facilitating the conditions for mutually beneficial economic transactions by helping eligible individuals qualify for old age, disability and survivor benefits from both countries based on their affiliation to each country's pension system.
In addition, the Convention will also permit the continuity of social security coverage when an employee is sent to work temporarily in the other country and eliminate situations where the employer and employee might have to contribute to two countries' social security programs for the same work.
Finally, the Convention will allow Peruvians to have access to pensions and benefits derived from Canada's Old Age Security Act, granted under the age of the taxpayer and the length of residence in Canada.
The Convention between Canada and Peru will enter into force once both countries have completed the approval procedures specified in their respective legislation.
Ottawa, April 10, 2014.
President Ollanta Humala meets with Canadian prime minister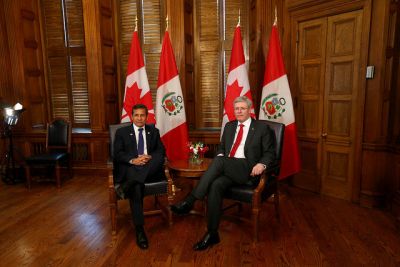 Peruvian President Ollanta Humala Tasso and Canadian Prime Minister Stephen Harper met in Ottawa on Thursday to discuss a range of bilateral and regional issues.
During their meeting at Parliament Hill, the two leaders talked about matters of mutual interest, including ongoing cooperation in education and science and technology, both key sectors for Peru's development.
President Humala and Prime Minister Harper also discussed ways to strengthen trade and investment promotion mechanisms between the two countries. In that vein, the Peruvian head of State welcomed Canada's observer status in the Pacific Alliance bloc since November 2012.
In the field of defense and security, the leaders announced that Peru's membership status within Canada's Military Training and Cooperation Program (MTCP) has been upgraded to Category "A", effective immediately. As a Category "A" member country of the MTCP, Peru will gain access to the full spectrum of the program's training activities, including opportunities to participate in courses offered to senior officers at the Canadian Staff College in Toronto.
Humala and Harper also announced that Canada and Peru will work together to strengthen international efforts to combat the illicit trafficking of nuclear and radiological materials. This cooperation project, which will enhance Peru's capacity to detect and deter the transfer of nuclear and radiological materials, will be supported by funds that Prime Minister Harper committed towards fighting nuclear terrorism at the March 2014 Nuclear Security Summit.
Previously, the Peruvian head of State held talks with the president of the International Development Research Centre (IDRC), Jean Lebel, and then he participated in a ceremonial tree planting on the grounds of Rideau Hall in Ottawa.
Ottawa, April 10, 2014.
Peru, Canada focus on creating new opportunities
Peruvian President Ollanta Humala on Wednesday began his state visit to Canada by attending a welcoming ceremony hosted by Governor-General David Johnston at Rideau Hall.
During the ceremony held at Rideau Hall grounds, Peruvian leader received full military honors and inspected a guard of honor. Then, governor general and the president offered remarks.
In his remarks, President Humala said that "bilateral relations between the two countries are at their best, but it is important to open up new opportunities" in addition to the existing trade agreements, the Asia Pacific forum, among others.
The head of State added that these relations are based on fundamental values and principles that both countries share such as democracy.
"I see a brighter future for the Peru and Canada relationship, I think there are many opportunities to enhance our friendship, share our cultures and strengthen our bilateral trade. We belong to the same continent and share values and challenges for the future," he said.
For his part, the Governor General of Canada, David Johnston, said that the two countries have a common vision of a more prosperous, secure and democratic hemisphere.
"I am confident that we can further our partnerships in many different spheres, such as trade and investment, research and innovation, and education. Particularly, I see this evolution of our friendship happening through our people-to-people ties," Johnston said.
Ottawa, April 9, 2014.
Peru's president meets with Canada's governor general to strengthen mutual cooperation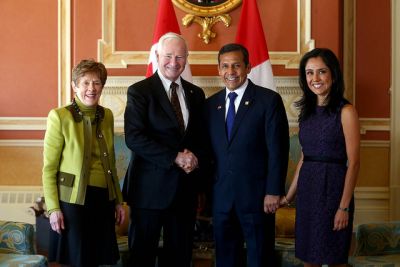 Peruvian President Ollanta Humala on Wednesday will hold a meeting with Canada's Governor General David Johnston, on the occasion of his state visit to that country.
During the meeting, which will take place at the Large Drawing Room of Rideau Hall in Ottawa, the two leaders and their delegations will discuss a range of issues from education to science and technology.
Also, they will address other issues to diversify the broad cooperation agenda, placing greater emphasis on corporate social responsibility, inclusion, and environment.
In the evening, President Humala and his delegation will attend a dinner hosted by the Governor General of Canada, and his wife, Mrs. Sharon Johnston, in the Tent Room of Rideau Hall.
Ottawa, April 9, 2014.