News
Peruvian president witnesses signing of "Moyobamba-Iquitos Transmission Line" construction contract
Peruvian President Ollanta Humala witnessed the signing of the construction contract for the 220 Kv Moyobamba-Iquitos Transmission Line, which will improve energy supply and provide a better quality of life for people in our Amazon rainforest.
The 630km-long transmission line, which will require a $500 million investment, will enable the Iquitos Isolated Electrical System to be connected to Peru's national grid, the National Interconnected Electrical System (SEIN).
President Humala said that this type of investment should be consolidated in Peru. "We have to ensure an industrial use for this energy in order to create small industries to stimulate local markets in the towns of the Amazon rainforest and high Andean areas".
He also noted that there is political will of the Executive to get cheap power for the people. "This project will help bring down power rates in the region. We have to work to obtain a cheap energy and gas for Iquitos. For this reason, Petroperú is allowed to take their floating taps to break monopolies of bottled gas in the Amazon. We can no longer allow that a gas cylinder in Iquitos costs more than 40 soles. We have to work on this and apply the FISE program, this is the way to provide cheaper gas," said the president.
In that vein, he instructed the authorities of the Ministry of Energy and Mines to remove obstacles holding up pending electricity projects in order to create better development opportunities for young people in rural towns of the Peruvian Amazon.
Moreover, President Humala said that the construction of the 220 Kv Moyobamba-Iquitos Transmission Line will improve energy security; but our next goal is to achieve energy adequacy with which we can establish a map of regional energy integration in which Peru could export electricity to "our brother countries that need it."
Lima, October 6th, 2014.
President Humala: "Investment in public-private partnerships has doubled"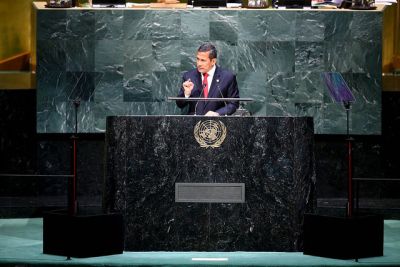 "The figures we've reached over the last two months show that we are recovering the average economic growth of the last eight years", Peruvian President Ollanta Humala said Friday.
In an interview with CNN, the Peruvian leader said that the proof of this is that investors are responding positively.
"So far this year we are doubling investments in public-private partnerships. Last year, we reached 5.5 billion soles and so far this year, we are already surpassing the 13 billion soles," he said.
In order to strengthen the recovery of the economy, he noted that his administration has taken steps to streamline procedures and facilitate investment. For example, "a certificate of non-archaeological remains of the Ministry of Culture had no deadline in the past, now it takes an average of 25 days," he said.
Later, he stressed that Moody's credit rating for Peru stands at A. "Today in Latin America, along with Mexico and Chile, we have the highest category," he said.
Rejection of terrorism
Regarding the position of Peru in the war against terrorism, the head of the Peruvian state categorically rejected terrorist acts, "wherever it comes."
"Our solidarity with civilians being held as hostages, and with the ethnic and religious minorities who are abused by ideological issues," he said.
He called on the international community not to retreat a single step in the rejection of this type of aberrations, "which dress in mourning to all of us at the end."
New York, September 26th, 2014.
President Humala inaugurates irrigation works in Huancavelica
More than 800 hectares of farmland will be improved in the Acobambilla district.
Peruvian President Ollanta Humala inaugurated on Tuesday the construction and improvement of the Pachamachay-RudioPampa-Pallpapampa irrigation project, in the town of Viñas, Acobambilla district, in the central region of Huancavelica.
The project, which required an investment of over 8.5 billion soles, will benefit 1,697 people in the area and allow the improvement of more than 800 hectares of farmland in order to double harvest.
"We have to work on Huancavelica to generate development. Huancavelica has to move forward as an emerging region. It has all the conditions starting for its working people," he said.
In that regard, he noted the coordinated work between central government and local authorities, in order to promote social and economic development projects for this region.
He recalled that his administration is giving priority to initiatives that promote agriculture in the country's remote areas, such as Mi Riego program, which was launched with a 1-billion soles budget; and Pro Quinoa, which seeks to expand the production of this crop.
"The construction of a hospital in Huancavelica is another pending project, as soon as the technical dossier is completed, I will give the money," said Humala, who also noted the presence of Cuna Más and Beca 18 programs in this town.
Then, he reaffirmed his commitment of sending more ambulances to the area and improving the salaries of nurses, health workers and teachers who work in places of extreme poverty.
During his meeting with the people, the president also highlighted the joint efforts of the central government and local authorities to improve roads and pathways connecting this region with the country.
Huancavelica, September 2nd, 2014.
Peruvian president praises police, public prosecutor's office for drug bust
Over 3 tons of drugs were seized.
Peruvian President Ollanta Humala praised the coordinated efforts of Peru's National Police and the Public Prosecution's Office to capture the members of an international drug ring and seize over three tons of cocaine hydrochloride in the northern city of Trujillo.
"These are achievements that we can show the Nation when we work together," said the president, who was accompanied by Interior Minister Daniel Urresti.
President Humala said that these achievements enable the State to regain the trust of the population, thanks to the selfless work of the country's institutions.
"Have confidence that we will continue fighting this scourge which is a threat to the State," he said from La Libertad region, following the arrest of a Peruvian and Mexican group investigated by the police.
The president reaffirmed that the executive has never stopped working, particularly in the fight against drug trafficking and illicit activities.
Also, he said that this drug raid is the result of a joint intelligence-based operation between the National Police and Public Prosecution's Office.
Trujillo, August 26th, 2014.
Peruvian president launches national plan to boost economic growth
Peruvian President Ollanta Humala on Friday unveiled the National Productive Diversification Plan which aims to boost economic growth, diversification and sophistication, reduce dependence on commodity prices, improve productivity and increase formal employment.
"This is a comprehensive, multi-sectoral, national, regional and local plan including private and public sectors," said the president, noting that the challenge is to reduce inequality in the country.
During his speech, the head of State added that this national plan will be a milestone in the Republican history of Peru, as it will expand its productive base, consolidate middle class and provide more development opportunities to young people.
To that end, the president said it is important to place more emphasis on education and training of young Peruvians, through policies promoted by the Government such as scholarship programs, and the enactment of laws such as the new University Act.
"Today, we need professionals and technicians to move the wheel of domestic production," he said, recalling that countries that invest in education and training have an advantage over others and are world leaders.
"Today, we have more than 30,000 students who are receiving education here and abroad to generate a critical mass of people who can manage and add value to what we now have to produce," he added.
In this line, the Peruvian leader noted that his administration will build high-performance public schools with international baccalaureate, thus enabling young Peruvians to enter universities abroad.
Finally, he said that "in the framework of the national plan, we have begun the execution of mega projects such as Talara, Metro's Line 2, the Southern Gas Pipeline (GSP), among others, which will create the necessary conditions to attract development and greater investment."
"It is necessary to analyze the potential of each sector of the national production and of the country's large regions, which have major ports, water resources, infrastructure and natural resources for their development," he added.
Lima, August 8th, 2014.