News
Peruvian president arrives in Mexico on official visit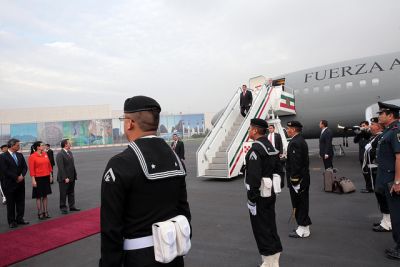 Peruvian President Ollanta Humala arrived in Mexico on Thursday for a two-day official visit.
Upon his arrival at the Benito Juarez International Airport in Mexico City, President Humala was welcomed by a delegation of Mexican officials, led by the foreign minister.
In the next hours, the Peruvian leader will hold a meeting with his Mexican counterpart Enrique Peña Nieto.
President Humala traveled accompanied by Foreign Minister Gonzalo Gutierrez.
Mexico City, July 17th, 2014.
Peruvian president meets with Executive Secretary of UN Framework Convention on Climate Change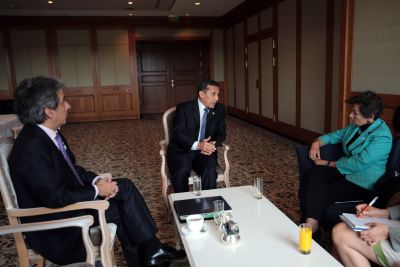 Peruvian President Ollanta Humala Tasso held talks with the Executive Secretary of the United Nations Framework Convention on Climate Change, Christiana Figueres, on July 14th in Berlin.
At the meeting, Figueres expressed her satisfaction with the fact that Peru will host the COP20 later this year in Lima, which she said will definitely be a success.
They also vowed to achieve a substantive and ambitious contribution through the efforts of both countries, according to their respective capabilities.
Berlin, July 14th, 2014.
Peru's Humala meets with France's Hollande in Paris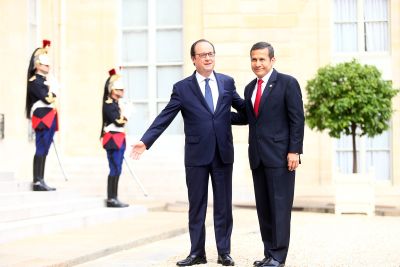 Peruvian President Ollanta Humala met Tuesday with his French counterpart, François Hollande, in Paris as part of his state visit to France.
According to Foreign Minister Gonzalo Gutierrez, who was also present at the meeting, the two leaders talked cordially about various issues of mutual interest such as the expansion of bilateral ties through cooperation in health, defense and education, with a focus on increasing the number of scholarships for young Peruvians who want to study in France.
Details of the Multiparty Agreement between Peru and the European Union (EU) were also discussed at the meeting, where President Hollande announced that the agreement will be fully ratified by the National Assembly of France before the end of this year.
Also, the French president told his Peruvian counterpart that France will support Peru's aspirations to join the Organization for Economic Cooperation and Development (OECD).
Finally, the two presidents vowed to increase cooperation between authorities from both countries in the build-up to the climate summits to be held in Lima this year and in Paris in 2015.
"They have agreed to work together to promote a document in which countries contributing to the so-called Green Fund, provide more support in the areas of environmental conservation and assume new commitments on reducing greenhouse gases," said Minister Gutierrez.
At his arrival at the Elysee Palace, President Humala was honored by the First Regiment of Infantry of the Republican Guard.
Peru's ambassador to France, Christina Velita; and Ambassador Manuel Rodriguez Cuadros accompanied the Peruvian president during this meeting.
Paris, July 1st, 2014.
President Humala meets with IAPA delegation
Peruvian President Ollanta Humala met Monday with senior representatives from the Inter American Press Association (IAPA) in order to discuss press freedom in Latin America.
The delegation was composed of IAPA President Elizabeth Ballantine, Claudio Paolillo, Danilo Arbilla, Ricardo Trotti, Edward Seaton, Raúl Kraiselburd, and Fernán Molinos.
The Minister of Justice and Human Rights, Daniel Figallo, was also present at the meeting held at the Government Palace in Lima.
Lima, June 23rd, 2014.
Peruvian president names new ministers for Interior, Foreign Affairs and Transport
Peruvian President Ollanta Humala on Monday swore in the new ministers of Foreign Affairs, Gonzalo Gutiérrez; Interior, Daniel Urresti; and Transport and Communications, José Gallardo.
The swearing ceremony was held at 19:30 in the Golden Hall of the Government Palace in Lima.
Lima, June 23rd, 2014