News
President Humala: Investing in Peru is making a right decision
He said that our country can not achieve development without adequate social policy, something that the government is doing.
During the inauguration of the modernization works of the Artisanal Fisheries Quay (DAP) of Paita, in Piura region, Peruvian President Ollanta Humala said that Peru has a positive environment for investment and called upon entrepreneurs to continue betting on the country.
The President said the government is creating the necessary infrastructure to develop markets and is implementing the mechanisms required to make the projects a reality.
"Investing in Peru is the right decision, and that decision should be maintained whether there are cloudy or sunny days because it is the decision to continue building the country's development," he said.
President Humala noted that investment promotion is a joint work between the public and private sectors, the central government and regional and local governments, adding that everyone's task is to accelerate the implementation of projects in order to not hold back them in legal briefs or in the companies' desks. "We must all work jointly for Peru to succeed," he said.
The Head of State reiterated that despite the adverse international environment in economic matters, Peru continues to reduce poverty rates as shown by the figures provided by the National Institute of Statistics and Informatics (INEI). "We have lifted more than one million Peruvians out of poverty, and more than half a million out of extreme poverty," he said.
President Humala added that the social policy implemented by the Government has become the engine that is helping us to rise Peruvians from poverty and extreme poverty situation. He reaffirmed in this regard, that economic growth is important, but if this is not accompanied by efficiency in spending, it is useless.
The President noted that the consolidation that has been given to the existing social programs, added to the newly created by the Government, will allow Peruvians to have greater opportunities for development. "Creating a country of opportunity for all, is the key to success," he said.
Paita, April 24th, 2015.
President Humala receives credentials of new ambassadors
During a formal ceremony at the Government Palace in Lima, Peruvian President Ollanta Humala on Thursday received the credentials of newly-appointed Palestinian Ambassador to Peru, Walid Ibrahim Muaqqat.
Then, Rusian Ambassador to Peru, Andrey A. Guskov, also presented his letter of credence to President Humala.
On November 29th, 2012, Peru sponsored and supported the admission of Palestine as non-member observer state at the United Nations General Assembly.
On February 18th, 2014, President Humala made an official visit to Palestine to strengthen relations of friendship and mutual understanding. That was the first official visit that a Peruvian leader pays to Palestine.
Regarding the bilateral relationship between Peru and the Russian Federation, this is excellent and at its highest level after President Humala's official visit to Moscow in November 2014.
Lima, April 23rd, 2015.
President Humala: Peru, Korea airplane co-production is a historic industrial achievement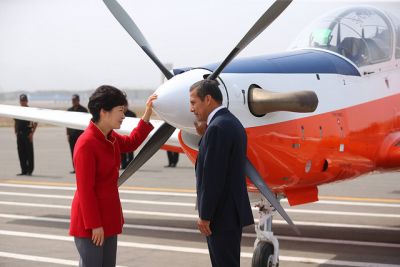 Peruvian president Ollanta Humala and his South Korean counterpart Park Geun-hye on Tuesday attended a rollout ceremony for the first basic trainer jet co-produced by both countries in Lima.
After visiting the KT-1P assembly plant, Humala said that the co-production of training aircrafts between Peru and South Korea is "an industrial achievement of historical scope" which will help in meeting the security needs.
"This is a direct result of a co-production program between Peru and South Korea, which sets the first stepping stone for future bilateral cooperation, technology transfer, and research," he said.
The KT-1P single-engine propeller plane was assembled at Las Palmas airbase in cooperation with Korea Aerospace Industries Ltd., South Korea's sole aircraft manufacturer.
The plane is the first of a total of 20 that will be assembled in Peru.
Lima, April 21st, 2015.
President Humala inspects flood-affected areas in Cajamarca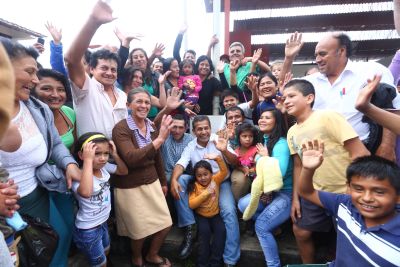 Peruvian President Ollanta Humala on Wednesday flew over the provinces of Jaén and Cutervo, in the northern Cajamarca region, to inspect the situation of the towns recently affected by floods and landslides.
"There are several areas in the country, like Chosica in Lima, that are suffering the wrath of Mother Nature and we have to visit and care for them," he said.
The head of State visited the districts of Colasay and Jaén, in the namesake province, to monitor the situation of roads, schools, homes and health centers affected by the severe weather conditions.
After overflying the area, the Peruvian leader sent more military and civil defense authorities to provide relief aid for those affected in Jaén and Cutervo.
Later, when he was asked by local media about the projects to be developed in Cajamarca, Humala said that the government will directly support the region and added that "if there is any tangled project such as the Hospital de Jaén, the Executive will coordinate with authorities to transfer it and directly undertake the works."
He also asked mayors across the region of Cajamarca to work directly with the central Government and request the necessary support, even if this is to support the development of the profiles and technical records of the projects that people need.
"Here, the only thing that matters is to deliver quality work to people, transparently and timely," he said.
Lima, March 25th, 2015.
Peruvian president meets with German counterpart at Government Palace
President Humala highlighted the significant multi-sectorial cooperation between Peru and Germany.
Peruvian President Ollanta Humala met Friday with his German counterpart Joachim Gauck, who is on a state visit to the Andean country.
The meeting, held at the Government Palace in Lima, was aimed at deepening and strengthening bilateral relations, continuing the political dialogue between both sides and expanding cooperation in various areas, particularly education and the environment.
"Regarding education, we are building a state policy, an irreversible path with a new vision of development. We aim to have quality education thanks to more scholarship programs, teaching reforms, increased school hours, improved infrastructure and foreign languages learning," Humala said.
It is worth noting that Germany has 53 universities that are considered among the best 400 in international rankings, which are eligible for Peruvian students under the "Beca Presidente de la República" scholarship program.
The presidents also exchanged views on major regional and global issues and cooperation in fighting illicit drug trafficking and promoting tourism.
"We are grateful to Germany for its support and cooperation in environmental development projects and active involvement they have had on the COP20. We hope all this effort allows us to arrive at COP21 in Paris with a final and binding document," Humala said.
With regards to the fight against drug trafficking, the Peruvian president stressed the importance of a joint work to combat this scourge, "because a national policy is not enough".
He also thanked the support and cooperation of the German government in the construction of the Lugar de la Memoria Museum, which is a venue for reflection on the years of terrorism violence experienced by Peru.
"We're building development in peace, a stable macroeconomic policy, stable and permanent social and educational policies, and we want to consolidate new policies such as the industrialization and the strengthening of small- and micro-sized enterprises. I think it is a great experience that we can share both Germany and Peru," Humala added.
In turn, German president Joachim Gauck encouraged the Peruvian president to continue the policies of social inclusion that has launched and reaffirmed the commitment of his Government to cooperate in various areas, especially in the academic, scientific and technology exchange.
Lima, March 20th, 2015.