News
President Humala inspects flood-affected areas in Cajamarca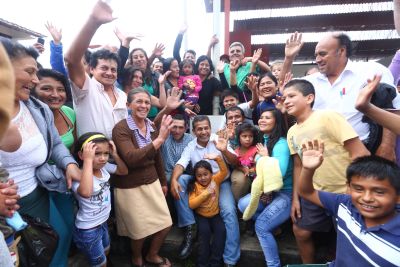 Peruvian President Ollanta Humala on Wednesday flew over the provinces of Jaén and Cutervo, in the northern Cajamarca region, to inspect the situation of the towns recently affected by floods and landslides.
"There are several areas in the country, like Chosica in Lima, that are suffering the wrath of Mother Nature and we have to visit and care for them," he said.
The head of State visited the districts of Colasay and Jaén, in the namesake province, to monitor the situation of roads, schools, homes and health centers affected by the severe weather conditions.
After overflying the area, the Peruvian leader sent more military and civil defense authorities to provide relief aid for those affected in Jaén and Cutervo.
Later, when he was asked by local media about the projects to be developed in Cajamarca, Humala said that the government will directly support the region and added that "if there is any tangled project such as the Hospital de Jaén, the Executive will coordinate with authorities to transfer it and directly undertake the works."
He also asked mayors across the region of Cajamarca to work directly with the central Government and request the necessary support, even if this is to support the development of the profiles and technical records of the projects that people need.
"Here, the only thing that matters is to deliver quality work to people, transparently and timely," he said.
Lima, March 25th, 2015.
Peruvian president meets with German counterpart at Government Palace
President Humala highlighted the significant multi-sectorial cooperation between Peru and Germany.
Peruvian President Ollanta Humala met Friday with his German counterpart Joachim Gauck, who is on a state visit to the Andean country.
The meeting, held at the Government Palace in Lima, was aimed at deepening and strengthening bilateral relations, continuing the political dialogue between both sides and expanding cooperation in various areas, particularly education and the environment.
"Regarding education, we are building a state policy, an irreversible path with a new vision of development. We aim to have quality education thanks to more scholarship programs, teaching reforms, increased school hours, improved infrastructure and foreign languages learning," Humala said.
It is worth noting that Germany has 53 universities that are considered among the best 400 in international rankings, which are eligible for Peruvian students under the "Beca Presidente de la República" scholarship program.
The presidents also exchanged views on major regional and global issues and cooperation in fighting illicit drug trafficking and promoting tourism.
"We are grateful to Germany for its support and cooperation in environmental development projects and active involvement they have had on the COP20. We hope all this effort allows us to arrive at COP21 in Paris with a final and binding document," Humala said.
With regards to the fight against drug trafficking, the Peruvian president stressed the importance of a joint work to combat this scourge, "because a national policy is not enough".
He also thanked the support and cooperation of the German government in the construction of the Lugar de la Memoria Museum, which is a venue for reflection on the years of terrorism violence experienced by Peru.
"We're building development in peace, a stable macroeconomic policy, stable and permanent social and educational policies, and we want to consolidate new policies such as the industrialization and the strengthening of small- and micro-sized enterprises. I think it is a great experience that we can share both Germany and Peru," Humala added.
In turn, German president Joachim Gauck encouraged the Peruvian president to continue the policies of social inclusion that has launched and reaffirmed the commitment of his Government to cooperate in various areas, especially in the academic, scientific and technology exchange.
Lima, March 20th, 2015.
President Humala's Back to School Speech
Lima, March 8th, 2015
Good night
People often say that education is a priority. However, Peru's reality shows that our education system is not where it should be. Although the policies implemented by the government have improved our children's learning levels in an effective and satisfactory way, there is still much to do.
We have to commit ourselves to give our children the tools to open the doors of the future, which make them masters of their own destiny and citizens with rights and duties.
The only way forward on the development path is putting an unprecedented emphasis on education. I am here accompanied by the leaders of the educational reform: school principals, students, teachers and parents.
Today, only six years before the Bicentennial, we must reaffirm our commitment to education with motivated and competent teachers, modern content, leading directors, and well equipped and organized schools.
This requires an effort of moving forward without interruption. Regardless of political differences, we have to see education, and the lines of action for which we have already started to move, as a state policy, and not just government policies.
We trust our children to teachers. We have advanced in providing incentives to the best teachers and scholarships to the most talented students to become teachers. With the Magisterial Reform Act, teachers' professional career and development depend on their merit, performance and effort. Last year, around 130,000 teachers were evaluated and 23,000 of them received increases of 40%, on average.
We need teachers who devote full time to teaching and we need to attract the brightest young people to be teachers. Therefore, we set a target of doubling the average teacher salary by 2021. This is a significant investment, but it is what we must do if we want to give the proper value to the work of those who have in their hands the fate of our children, and therefore, the future of the country.
Our students need that schools motivate and make them grow. Young people like Eduardo, an outstanding student of Luis Armando Cabello Hurtado School in the Lima district of La Victoria, deserve full-time education, that goes beyond 1pm, as happens now in public schools.
Therefore, we are extending the school journey of one thousand secondary schools, from 35 to 45 hours a week, increasing English, Math and Physical teaching hours. The full time journey also involves teachers with more training, better material and technological resources. This 1,000 schools are only a first step. The goal is to reach gradually 8,500 secondary schools by 2021.
Our students have the right to seize the opportunities of an increasingly integrated world. Therefore, we have begun a path for the Bicentennial, teaching 5 hours of English a week. But also, our students must maintain a connection to their roots. Therefore, we have expanded intercultural bilingual education.
Over the next eight years, we have to double, from 10,000 to 20,000, the number of teachers who speak Quechua, Awajún or another native language.
Physical education and sports, as well as being part of a healthy life, build up teamwork, discipline and perseverance. Therefore, we have begun the plan to strengthen physical education and sports, which should be universalized in seven years.
Our young people with great academic talent require extraordinary challenges and stimuli. This year, we will have 14 High Performance Public Schools, which offer the International Baccalaureate Diploma. By 2021, the goal is that all regions have at least one High Performance School.
Our students, teachers and principals also have to work in suitable environments with technology. However, the gap in educational infrastructure is immense and reaches 63 billion soles. We have an enormous and urgent task of rebuilding many of our schools and build new ones in the jungle and in rural areas. In this government, we have beat historical investment records but, nevertheless, it will still take 20 years to close that gap. We must continue to prioritize investment in education infrastructure to significantly reduce the deficit. In the Bicentennial, any public school in rural or urban area must have electricity, potable water and sewer services, as well as internet and proper equipment.
A good education requires that our students are well nourished and healthy and a good start of the school year is a multisectoral task of the government. So this year, 3 million children are part of Qali Warma program that provides nutritious food that increases their assistance and attention in class. Also, more than 2 million students have been joined the Comprehensive Health Insurance. This allows them to start their school year with a medical history so that every future citizen has a health monitoring and screening timely detection and treatment of the disease, when necessary.
Public education is the best mechanism for inclusion and equal opportunities. We must invest more in rural areas and in the jungle.
And we have to ensure that investment for these talented guys, who cannot pay for higher education, has a solution. Therefore, the national scholarship system, which includes Beca 18, is changing the lives of more than 32,000 young Peruvians and their families. Another 21,000 students will be added in the coming weeks.
All this requires a significant financial commitment. Education cannot be another category in public budget in which you do what you can.
Our ability to generate wealth depends on the qualifications and skills of our people. We have to think about the future of the country by investing and being responsible with today's generations.
So this 2015 we have committed over four billion soles for education. But that is not enough; financial resources must continue to grow, so, for 2016, we will perform a similar increase in the budget and it is essential that this effort will continue in the following years.
This year is an opportunity to reaffirm our commitment to education. Teachers, inspire our students as mentors and guides. Parents must get involved and participate in school activities and read with their children. Dear students: make the most of your schools.
We all have to work hard to meet the challenge of achieving quality education. Let's commit to bring education to the place it deserves. To take education towards the highest note.
Thank you very much and successes in the 2015 school year.
Peruvian president asks governors to work together for the country's development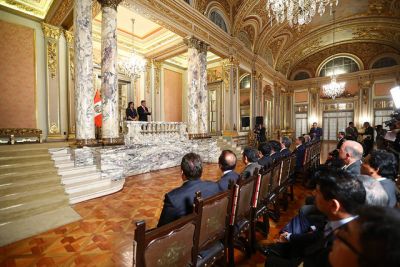 Peruvian President Ollanta Humala Thursday called on governors to work jointly with the Executive to carry out works for the benefit of the neediest populations.
"The Central Government strongly supports the works and projects much needed by the people of all regions. We have to work together. There is no time to argue because, in the end, the people are the ones most affected. We have to assume multi-year commitments," he said during a meeting with regional authorities at the Government Palace.
In this regard, he said that during the first quarter of 2015, the Executive will hold the Decentralized Cabinet Meetings in the regions that did not host these meetings last year. "We will continue traveling to the regions beyond political affiliations, because the priority is to focus on key issues such as the development of regions, the solution to serious problems and the implementation of several measures that have been launched in the regions," he said.
He also urged regional presidents to look at the experience of some previous regional administrations since it is necessary to understand that transparency is essential in the execution of public spending. "I insist on the issue of transparency. We have seen many governors brought down by corruption, poor management, and others by default, by not controlling theirs officers and trying to carry out works through direct administration, awarding works to crony companies that have no guarantee and leave works unfinished. We will not forgive that," he noted.
Then, President Humala told regional authorities that the priorities of the Central Government in terms of public investment are the infrastructure in health, education and sanitation sectors, as well as the execution of social programs.
The Head of State added that he is an advocate of regional autonomy and decentralization process in the country. "But we have to do it well, so that people feel that there is progress in the distribution of wealth and income. In this way, we will continue moving forward with the country and with the great expectations that the nation has," he said.
Lima, January 8th, 2015.
Peru president meets IMF managing director to discuss global economic situation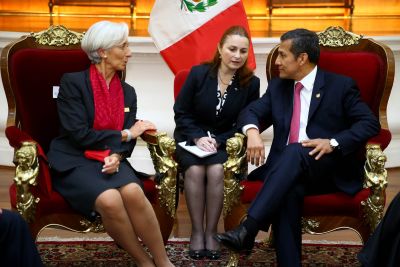 Peruvian President Ollanta Humala on Tuesday met with the Managing Director of the International Monetary Fund (IMF), Christine Lagarde, at the Government Palace in Lima.
During the meeting, they discussed the world economic situation, its impact on the region and the country, as well as the actions being undertaken by the government to bring the benefits of growth to all Peruvians.
"We have talked, exchanged views and received a very important view of what is happening in the world, in Latin America and in Peru in terms of economic policy, particularly in macroeconomic policies, and the need to implement and enforce the reforms we have initiated", said the head of State.
In this regard, President Humala said that our country has strengths and has built a macroeconomic, fiscal, and monetary policy that now allows us to address the global crisis.
"Peru is a country with an inflation rate within the expected parameters, it has a low unemployment rate and low debt compared to other countries in Latin America, and it maintains a strong public spending in millionaire infrastructure works that allows us to be optimistic about next year," he said.
President Humala also thanked the IMF for its support to bring the Annual Meetings of the Board of Governors of the International Monetary Fund and the World Bank to Lima next year. At these meetings, the governors are consulted and present the views of their countries on finance and global economy.
"Peru will do its best to ensure that next year's Annual Meetings of the International Monetary Fund and World Bank are held under the best conditions and we hope they serve as a space for reflection and debate on the economic prospects of the world," he said.
Lima, December 2nd, 2014.