News
President Ollanta Humala meets with US Vice President Joe Biden in Chile
Peruvian President Ollanta Humala Tasso and United States Vice President Joe Biden met in Chile on Monday to discuss issues of bilateral and multilateral interest.
Humala and Biden are both in Santiago to attend the inauguration of Chilean President-elect Michelle Bachelet on Tuesday, March 11.
Issues discussed during their meeting included negotiations for a new bilateral defense and security agreement and their countries' commitments and interests in the Trans-Pacific Partnership (TPP) talks.
After the meeting, which was also attended by Peruvian Foreign Minister Eda Rivas, Humala went to La Moneda Palace to attend a gala dinner for outgoing Chilean President Sebastian Piñera.
On Tuesday, the Peruvian leader is scheduled to attend the inauguration of Michelle Bachelet as president of Chile in the National Congress in Valparaiso.
Santiago, March 10th, 2014.
President Ollanta Humala, Queen Maxima of the Netherlands discuss financial inclusion strategies in Peru
Peruvian President Ollanta Humala and Queen Maxima of the Netherlands met in Lima on Friday to share views on the financial inclusion programs being implemented in the South American country.
The meeting, held at the Government Palace in the Peruvian capital, served to promote the work of the national strategy for financial inclusion and also contributed to the content and organizational aspects of the policies surrounding this issue.
Queen Maxima arrived in Peru on Wednesday to pay a three-day official visit in her capacity as the United Nations Secretary-General's Special Advocate for Inclusive Finance for Development.
In addition, President Humala and Queen Maxima reviewed the progress made by government-funded social programs like Juntos and Pensión 65 which use the financial system and have led to a significant increase in access to banking services, especially in the country's poorest departments, as they are a source of economic growth.
Other topics discussed were the conclusions of the Fourth Annual Report on Inclusive Finance for Development, which Queen Maxima presented to UN Secretary General Bank Ki Moon. The document highlights the key role inclusive financial services play in the post-2015 development agenda.
After the meeting, the Peruvian leader hosted a luncheon in honor of Queen Maxima at the presidential palace. Also in attendance were First Lady Nadine Heredia; Minister of Foreign Affairs, Eda Rivas; Minister of Development and Social Inclusion, Paola Bustamante; Ambassador of the Kingdom of the Netherlands to Peru, Johan Van Der Werff, and other members of the visiting delegation.
Lima, March 7, 2014.
Peruvian First Lady, Queen of Netherlands praise women's entrepreneurship skills
Peruvian First Lady Nadine Heredia and Queen Maxima of the Netherlands participated in an event for female entrepreneurs organized by the Inter-American Development Bank (IDB) in Lima on Friday.
Speaking at the "Women Entrepreneurs, Inclusion and the Future" conference in the Peruvian capital, Nadine Heredia welcomed the efforts being made across the public and private sectors to support women entrepreneurs so that they can be "autonomous and independent."
"On the road to financial inclusion, we will find thousands of women who will seize these opportunities to change the course of their lives. This requires the participation of the public and private sectors, civil society, and international cooperation," she said.
Addressing over 200 women entrepreneurs and business and development experts in attendance, Heredia highlighted the commitment of and progress made by the Peruvian government in promoting financial inclusion in the country, especially when it comes to people living in poverty and extreme poverty.
"After two and a half years of this administration, the beneficiaries of [social] programs like Juntos and Pensión 65 get their money transfers straight into their savings accounts. That is include to grow," she said. "More than a million people, including students under the Beca 18 scholarship program, hold savings accounts while others already have and use their debit cards."
For her part, Queen Maxima of the Netherlands, who arrived in Lima on Wednesday in her capacity as the United Nations Secretary-General's Special Advocate for Inclusive Finance for Development, said she was grateful for the opportunity to hear about the experiences of Peruvian women entrepreneurs, and also shared her views on how to continue supporting their accomplishments.
Friday's event marked the closing of a successful partnership between IDB's Multilateral Investment Fund, Mibanco, the government of Australia, Goldman Sachs Foundation, and Thunderbird School of Global Management, which invested in women entrepreneurs in Peru through two programs: one which taught basic business skills to 100,000 women; the other a more intensive Certificate program for established small and medium business owners.
Lima, March 7, 2014.
Peruvian government launches water, sanitation project in Piura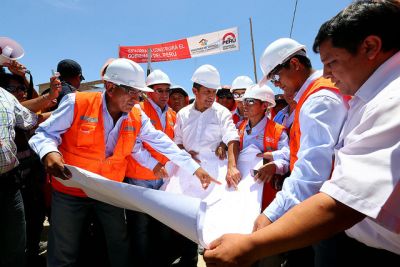 Peru's government has allocated more than 127 million soles (US$ 45.3 million) to improve and expand water supply and sanitation facilities in the high Paita area of Piura region.
Peruvian President Ollanta Humala on Tuesday visited this coastal region in northern Peru to formally launch the project, which the government says should benefit a total of 52,674 people.
"I am proud to earmark 127 million soles for water and sanitation works, not for squares or municipal palaces but for much-needed water and sewer projects," said the president, who was accompanied by Prime Minister Rene Cornejo and Minister of Housing, Construction and Sanitation Milton Von Hesse.
Humala regretted that it has taken so many years for the town of Paita to have access to these basic services, despite being one of the country's most important commercial ports.
In addition, the president stressed the importance of working closely with local authorities "to meet the demands and needs of the people, regardless of their political affiliation."
Talking of the government-funded social programs, he said that initiatives like Beca 18, Qali Warma, Pensión 65 and Juntos are already benefiting people of all ages in Paita, located about 700 miles north of Peru's capital Lima.
Humala also confirmed that the modernization of the Talara oil refinery in Piura and the construction of the Longitudinal de la Sierra Highway "will be a reality."
Piura, March 4th, 2014.
Peruvian president urges parents to send children to school
Peruvian President Ollanta Humala is encouraging parents across the country to send their children to school next Monday, March 10, the first day of classes for all public schools.
Speaking during a recent visit to Peru's northern Piura region, the president reminded local parents that the new school year starts next week and "therefore, all of us are committed to sending our sons and daughters to school, so they can be better than us."
Humala stressed that education is the main instrument of transformation and a fundamental tool for the development of individuals and peoples, especially in rural areas where children are often engaged in farm work and where the priority for education is given to boys and not to girls.
"Poverty is not a hereditary disease; our children do not have to be poor if we are poor.  If we provide them with education and health care, we will give them a chance to change," he added.
Humala reiterated that his government is focused on improving education and health care for all Peruvian children, in order to "help them become successful people who will eventually contribute to the progress of their towns."
The head of state made these remarks on Thursday during the inauguration of the 21km Tambogrande highway, linking several districts in Ayabaca and Piura provinces. The highway was built at a cost of over 41 million soles and will benefit 598,040 people.
Piura, March 4th, 2014.