President Humala bids farewell to scientific mission to Antarctica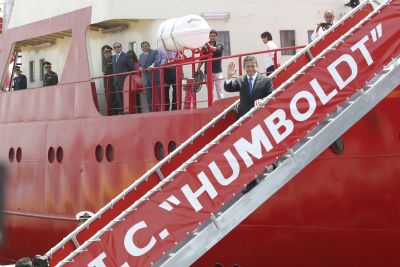 Peruvian President Ollanta Humala Tasso bid farewell to crew members of Peru's scientific research vessel BIC Humboldt, which has embarked on an 82-day scientific mission at the Machu Picchu base in Antarctica.
"I am filled with a sense of pride to be Peruvian and be able to bid farewell to the 21st mission to Antarctica, which is part of Peru's Antarctic policy at its Machu Picchu base," the president said in a ceremony at the port of Callao on Monday.
President Humala added that "Peru has over 30 years of presence in Antarctica, which provides resources for research and development; and expanding our presence there makes the difference between countries that give importance to science & technology and those that do not."
By supporting this new scientific mission, he said, the government wants to make sure Peruvian children know that their country has not only Amazon, Andean and coastal regions and a territorial sea, but also a presence in Antarctica.
"This allows us to have a broad and diverse culture, a culture of love for nature and our environment. For Peru, Antarctica is as important as any other region in the country. We have to learn from the Antarctica to improve our environment," he remarked while wishing the 62-member crew success in their mission.
Then, President Ollanta Humala took a brief tour of the inside of the vessel and greeted the crew.
Lima, January 7th, 2013.